Solana Resort Information
Solana resort is an exclusive and purpose built gated community of vacation rental homes that features a large clubhouse with all the facilities that you would expect from a top rated vacation resort. Situated only minutes from Disney and near all the other central Florida attractions it is the ideal location for your vacation. To find out more about the precise location please see the Solana Resort Location page, or read on to find out more about Solana Resort itself...
One of the highlights of Solana Resort is the fabulous Clubhouse with its resort size heated pool and spa. Surrounded by palm trees the pool area is a true oasis in the heart of Florida. The large colourful deck area has ample loungers and is perfect for unwinding in the Florida sunshine. If you have children and want to take a little break from the sun there are cabanas to give a little shade. You can take a dip in the inviting blue waters of the pool to cool off, or why not relax in the spa with a nice cold drink?
If you feel a little more energetic there is a beach volleyball court and a recreation field if you wish to kick or throw a ball around or perhaps fly a kite with your children.
If you want to do something a little more leisurely but just as fun, then on the other side of the pool is an 18 hole mini-golf course to practice for playing on one of the many top-rated golf courses that are nearby. A small fee to rent equipment is applicable.
Alternatively, if you are a bit more adventurous there is the 'climbing ribbon' which is very popular with older children and for younger children the tot-lot play area is very popular.
Next to the pool is a picnic area with barbecues so you can bring your lunch down to the pool too or have dinner watching the fabulous sunsets that Solana enjoys.
Inside the air-conditioned clubhouse there is a lovely large lounge area with a widescreen television which is perfect for relaxing out of the heat. If you want to burn off some energy there is a fantastic fitness room with all the popular equipment free for Solana guests use - cycling machines, running machines and multi-gym amongst others.
There are computers and free wifi for checking you e-mails, keeping in touch with home or work, or making plans for a day out and about at the theme parks or other many other attractions that are nearby. The clubhouse also offers free wireless internet access if you wish to use your own laptop/ipad either inside or out by the pool.
For those that like arcade games there is a games room that has both popular modern arcade games along with a more traditional hockey game and pinball machines.
There is a concierge service with helpful advice to help you plan your days out at Walt Disney World, Seaworld, Universal Studios and the other theme parks. The friendly staff can also offer advice on nearby restaurants, shopping, golf courses or any other information that you may need to know. They are dedicated to helping guests with their vacation or conference needs. As an authorised ticket seller for Disney they can conveniently offer ticket sales at competitive prices and park advice for guests too.
Outside by the pool we now have a tiki bar that offers chilled drinks and poolside snacks such as hotdogs and fries. Hours are subject to change depending on season and demand.
Some of the facilities that Solana Resort offers:
Gated Community
4000 sq ft Clubhouse
Tiki Bar
Resort sized swimming pool
Spa
Sand volleyball court
18 Hole Mini Golf Course
Recreation field (soccer pitch)
Wifi and computer use
Sundry Shop
Fitness room and gym
Luggage room
Concierge Service
Free wireless internet access.
Tot-lot featuring swings, slides, ride-ons and activity play frame.
Advantages of Solana Resort for vacations
If you have children with you, then one of the great advantages of Solana Resort is the safety and security it offers. As it is a gated community there is no through traffic and the facilities are exclusively for the use of villa owners and their guests.
This allows your kids to mix with other kids by the resort pool, games room or play areas while you have piece of mind. We all remember meeting new friends on summer vacations as kids and this is a good opportunity for them to do the same. This is one of the many advantages of renting a villa in a dedicated resort community.
We can not emphasize enough the benefits of Solana Resort over staying at a villa in a residential area. So why not rent a Solana Villa and get all the benefits from Solana Resort you would expect from a first class resort or vacation hotel, with all the luxuries and individuality of a Solana home?
We are confident that you will find Solana Resort the perfect community for your vacation villa rental and we look forward to welcoming you there soon.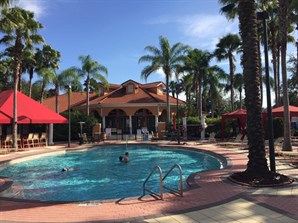 Resort and Clubhouse Activities
The clubhouse and tiki bar at Solana organise regular events and activities. The Summer Friday Pool Parties are great fun and very popular, they also organise events for the Holiday seasons and major sporting events.
For information on upcoming events and current timings, please visit their Facebook page for information.